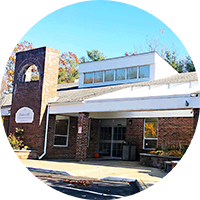 "My wife and I were both placed at Blueberry Hill Rehab Center in February on an emergency basis. The facility accommodated my wife and I so that we could have a room together. The staff here has been very nice to us, the nurses, the aides, and the housekeeping staff. They have succeeded in making us feel very comfortable, and that is half the battle. My wife participates in activities and enjoys engaging with the other residents. The activities staff help to lift our spirits. I have participated in both physical therapy and occupational services. Before I got here, I walked with a cane. I have since made great progress. Rehab was very difficult in the beginning. With the help of the staff, I was able to motivate myself. I worked with Kathleen, Rick and Jonathan from the rehab team. I can now walk down the halls and the ramp on my own. I can now change my clothes and dress myself on my own. When I first got here, I could not do any of these things on my own. I have since improved my mobility, balance and have gained more independence. Blueberry Hill has helped us out a lot since we have been here and the staff has treated us very well."
– Eugene and Joanna Perry
---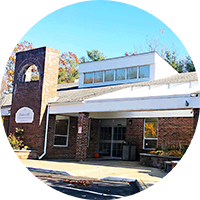 "I came to Blueberry Hill last May and have been here just over a year. When I got here, I couldn't even get out of bed. I have since undergone a couple rounds of therapy. I worked with Jonathan and Marc, and they were both fantastic. I have kept up my exercises after therapy and continue to work towards my goal. My goal is to walk on my own again and I have come a long way. I am no longer wheelchair bound. I can now do my own shopping, cooking, and cleaning on my own. I have been able to regain my independence. I have since secured housing on a first level apartment on my own. I worked as a musician professionally and what I look forward to the most is getting back out there and playing in the local restaurants and pubs. I even had the opportunity to play for Blueberry Hill residents while here and really enjoyed myself. The staff here at Blueberry Hill have been very friendly and kind to me. My therapy was good, the housekeeping staff is great and I came to know all the staff here at Blueberry Hill. With the help from my rehab team, I am now ready to live independently again and start the next chapter in my life."
– Steven Ruzzo
---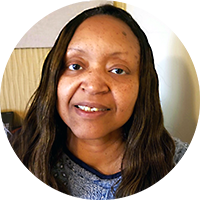 "I really like it here at Blueberry Hill and appreciate the staff and care I have received. I have been working on my physical therapy and occupational therapy, post-surgery while here. I am healing exceptionally. The rehab team has helped me to set goals and to work towards my goals. Standing was a challenge for me at first. After surgery, it was not physically possible for me without falling and injuring myself. I have 20 steps at home and my goal is to reach the top of the stairs without assistance. I am now climbing stairs and able to do more physically on my own. I enjoy participating in all the resident activities and social events put together for the patients. It has helped me to get moving, stay mobile and keeps me busy throughout my day. My mind stays focused, I push myself to succeed and go further in my progress. I am excited how far I have come since surgery. I have been able to strengthen my muscles with weights, exercises, and determination. I feel more confident now in my ability to thrive at home without assistance. The staff has provided me with exercises to continue to rehab progress at home. I am thankful for the rehab services I have received at Blueberry Hill. I am being followed by podiatry and will require foot surgery to lift my arches. I plan to return to Blueberry Hill for the same quality of care following my next surgical procedure."
– Sonya Anderson
---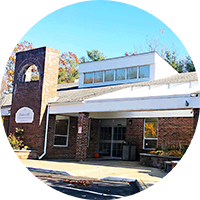 "John Lovell was admitted to Blueberry Hill on an emergency basis in February. The Memory Care Unit at Blueberry Hill has been a perfect fit for my husband. JC, staff member and CNA, is very kind and has been a valuable asset to my husband's care. John is a busy body and is always accompanied by a staff member. All the staff on the unit offer helping hands to provide the best care to their ability. John is particular about his clothing, and I have seen the staff go above and beyond to ensure that he is comfortable and always kept in clean clothing. The staff takes the initiative to keep my husband clean-shaven, which I really appreciate. These are the things that are important to John. I am not able to visit every day and I take comfort in knowing that my husband is getting good quality care at Blueberry Hill. Kindness goes a long way. The kindness shown by the staff gives me peace of mind that my husband is well cared for. Knowing my husband is well cared for allows me to rely on the staff and trust the care he is receiving at Blueberry Hill."
– Allison
Spouse of John Lovell
---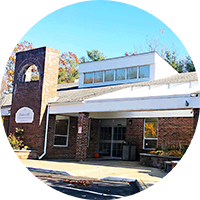 "I have been at Blueberry Hill Rehabilitation Center for three weeks. When I came in, I could not get out of bed on my own. I am working on my Physical Therapy and Occupational Therapy. The staff has been fantastic and has been working together to help me meet my goals. Jonathan, my OT has been good to me and encourages me to keep going. Since I have been here, I have met a lot of my goals. My goal is to be able to transition back home and walk again without the assistance of my walker. I must challenge myself. I will push myself and not back down or give up. I continue to work at it because it must be done to continue to meet my goals. I can now get up on my own. I am dressing myself again. I can walk to the bathroom without assistance now. I couldn't do any of these on my own before I began working with the rehab team at Blueberry Hill. The people and nurses here have been fantastic, and I owe credit where credit is due. The team works together to meet my needs and do the best of their ability to provide the services I need. The Blueberry Hill team has helped me to set goals and to regain my independence. I am feeling good today and I continue to make improvements. I am thankful for every day."
– Thomas Balboni
---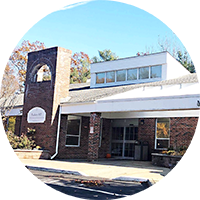 "My partner has been here at Bluberry Hill for three years in the Hale Unit. It is sometimes hard, but I am grateful she is here. My partner's welfare and comfortability are my top priority. I wouldn't want her to be anywhere else. I have been visiting my partner at Blueberry Hill every day and have grown to be familiar with the staff as well. The staff at Blueberry Hill are all very kind and nice people. I would like to show my appreciation to Alex, Dimples, Juan, Carlos, Corrine and Bella. When I see them on staff, I feel wonderful walking in the door, and better about my loved one being cared for. The activities staff is awesome! We couldn't ask for better staff. They really try to engage the residents and do really great work. There are so many wonderful people there at Blueberry Hill. I am thankful for the care and support provided by Blueberry Hill and their top-notch staff members."
– Josephine Cimmino
---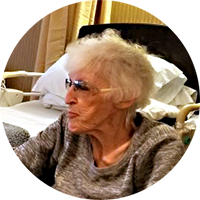 "Every department I have dealt with here at Blueberry Hill has been just wonderful. May, the CNA, has done everything for me. Dee, the Activities Director, is so vibrant and just right for the job. I have come a long way in my PT, gym routine and OT. My therapy services have been exceptional. I fractured my pelvis, and at first, I could not walk very well at all on my own. I am now four weeks into rehab services and have been able to regain my strength and mobility. I have pushed myself as well to meet my goals. The small feats have encouraged me to keep going and have gotten me to where I am today. I have been to Blueberry Hill before, but this stay was just phenomenal. The Sunshine Room is a nice place to spend my time here. I enjoy getting my hair done weekly. The staff has been just great. Thank you everyone at Blueberry Hill for all you've done for me to help me to regain my strength."
– Gail Rehm
---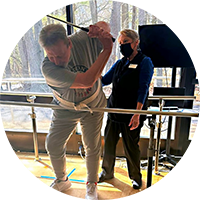 "The nurses here are top-notch. I would like to highlight Nurses Heather and Jennifer on caring for my wounds. Everything goes through them and to all staff involved in my care. Rehabilitation has done a lot for me. There is always progress. I am out walking with my prosthetic in the parking lot now. I think as a patient, I have a goal set that can be met. I won't stop, won't slow down, until I get there. After surgery, I received speech therapy services here. The exercises helped me to be able to speak clearly again, swallow safely and now I am back on a regular diet. I have come a long way with the help from Blueberry Hill Team. Everyone here is supportive and confident. I have progressed in a lot of ways, I have been blessed with the care I receive at Blueberry Hill Rehab, which has helped to bring me to where I am today."
– Stephen Ward
(President of Resident Council )
---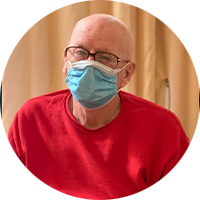 "They are all so wonderful here. The nurses have been great. Without them, I would have lost my temper at times. If I am having a bad day, the staff will sit with me and take time to talk to me.
Before I came here, I had 4 falls at home in a week. I couldn't do things in my apartment. From the hospital, I went to another place but, I didn't like it. I got transferred here and I am very glad to be here. My sister tells me that the staff spoil me. I just started working with therapy again. I am walking with a walker and feeling stronger. I also have a great roommate. We share our stuff and get along well. I love it here.
– Donald Smith
---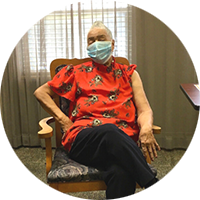 "I stayed for a short time. They treated me very good. The food was good and I liked it. I had things to do. They gave me activities in my room. I like that the therapy helped me. I was happy they did speak Spanish and they understood me."
– Altagracia Alonzo
---
"I do every therapy session that comes my way. It wakes me up and gets my blood circulating. I see the nurse practitioner regularly. She is really good. I don't have any favorites, but nursing is also very good to me. I'm a good guy and they treat me as a gentleman.
90% of the time, when they do my laundry, it is back the same day. I am very happy that I got both COVID vaccines here. The shots didn't bother me at all. All my needs are being met here."
– Bill Maihos
---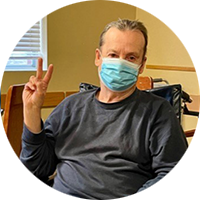 "In the long run, I think that the staff here are wonderful. I have developed my own little clique with my neighbors around me. The nursing staff have been very kind and courteous. Once I get my prosthetic leg, I will start working with rehab again. They will help me to get back on my feet again. When I do that, I will return to my home. I want to golf again."
– Stephen Ward
---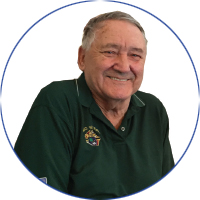 "During my two stays here at Blueberry Hill, I have found the staff to be not only very efficient but very friendly and caring. I would highly recommend treatment here for anyone in need of rehab. I would come here in a heartbeat and you should too!"
– Donald Parker
---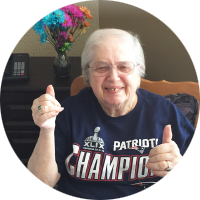 Leaving On My Own Two Feet
"I am sad to be leaving Blueberry Hill, but I am happy to be returning home. The rehab is very good here. I came here in a wheelchair and I am now walking out of there."
– Flaura Glichouse
---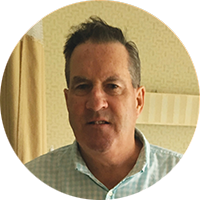 "The people are great here at Blueberry Hill. Anna in the gym was excellent and the Director, Paul was always so encouraging. I was as comfortable as could be. I came into Blueberry Hill in a wheelchair from Beverly Hospital and after a week of therapy, I am able to walk just fine now. Even though I am younger I felt well taken care of and completely comfortable here. I would definitely recommend Blueberry Hill to others who are in need of rehab services."
– Michael Fallon
---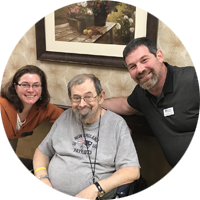 "When I arrived at Blueberry Hill for rehab, I was really weak and sick. I am so glad I came here because not only did I get the help that I needed – I also learned a lot about myself… And now I am going home today! I am so grateful to the staff here."
– Thomas Walker